When it comes to your home's exterior, your roof is an important player. Your roof protects your home from fierce northern Illinois and southern Wisconsin winds, bears the weight of heavy snow or ice, and keeps your home cool in the sweltering summer months. However, investing in a new roof can feel like an overwhelming purchase to most homeowners.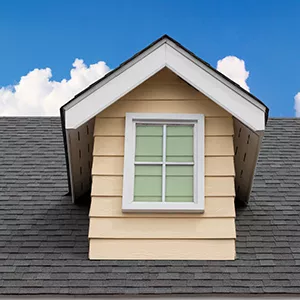 Asphalt Roofing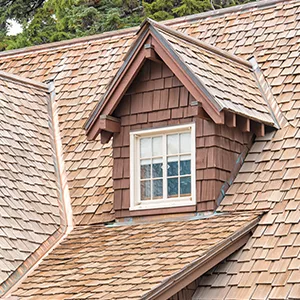 Cedar Roofing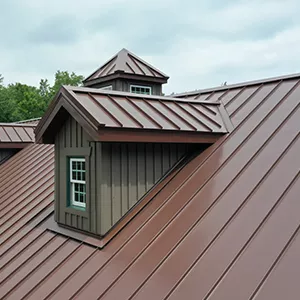 Metal Roofing
When Should Your Think About Roof Replacement
Your home's roof should be replaced at least every 15 years. During our harsh winters and hot summers, your roof can become damaged or less effective, driving up your energy bills and decreasing your home's property value. A roof replacement is an investment, certainly, but the team at Roberts Restorations offers a variety of styles and designs to suit your budget, goals, and preferences.
Business owners, don't forget about your roof as well! The team at Roberts Restorations services commercial and light industrial properties throughout the area. We work with each client to assure our quick installation will not affect your normal business activity.
Roof Repair or Replacement After A Storm or Disaster
If your home was damaged during a storm, fire, or other disaster, you can be feeling worried or overwhelmed. Fortunately, your roof repair is likely covered by your home or property insurance.
Unfortunately, filing a claim can be cumbersome and time consuming. When you work with Roberts Restorations, you not only get and exceptional installation experience, you also get the advantage of our years of experience working with insurance companies.
Choices and Options
Every home and business – and every property owner – has different design preferences and budgets. We are proud to work with each individual client to meet their needs by offering multiple options of materials, brands, and styles. We currently offer materials ranging from cedar shake and vinyl shake, metal, slate, and copper. Our team is also experienced in working with flat roof properties as well.
ASPHALT
IKO
Owens Corning
Cedar Roofing
Metal Roofing
Asphalt or composite shingles now come in a variety of shapes, sizes and colors. Most begin as a fiberglass mat of a certain thickness. Then, protective formulations are applied along with the ceramic granules that create the colored, often reflective surface.
While traditional three-tab style shingles remain prevalent due to their affordability and ease of installation, architectural-style laminated shingles with greater definition and contrast between light and shadow have become increasingly popular. Some manufacturers like IKO and Owens Corning even make premium composite shingles that mimic natural slate tiles or cedar shakes.
If you're wondering if it might be time to replace an asphalt or composite roof, you can check your roof for some telltale indicators:
Shingles that are curling or buckling can signal brittleness, cracking or splitting.
Missing shingles leave exposed areas vulnerable to wind lift and water intrusion.
Granules may shed, collecting in gutters and downspouts and taking their protective qualities with them.
Moss growth indicates a constant presence of dampness and can be detrimental to shingles. Algae stains and growth can also be aesthetically undesirable.
Hail damage often results in black "bruises" and pits that impact granule surfaces and compromise shingle integrity.
Shingle manufacturers are constantly improving their roofing materials with new formulations and protective qualities to guard residential roofs against exactly these issues. At Roberts Restorations, two brands that we consider quality products and take pride in selling and installing are IKO and Owens Corning.
IKO takes pride in its philosophy of roofing elevated and produces four residential roofing collections:
Designer — Three lines are designed and precision-cut to give you the look of natural roofing materials but keep costs and maintenance requirements in the realm of asphalt.

IKO Crowne Slate shingles look like slate and can handle weather extremes like wind and heavy snow.
IKO Armorshake shingles are laminated architectural shingles that look like hand-cut cedar shakes yet carry a Class A fire resistance rating.
Royal Estate shingles mimic slate in four color blends and are resistant to damage from algae and UV rays.

Performance — Two lines comprise IKO's Performance Collection—Dynasty and Nordic. Both feature larger-than-average Advantage shingles designed to withstand 130-mph winds and are algae-resistant. Dynasty shingles are available in 16 colors. Nordic has nine colors and also offers a Class 4 impact rating.
Architectural — IKO's most popular shingle, Cambridge is a laminated architectural shingle built on one of the heaviest mats in the roofing industry. Available in eight colors, Cambridge features built-in algae resistance and maximum protection against wind uplift, blowoffs and water intrusion.
Traditional — Three-tab roofing shingles offer affordability and easy installation. IKO's Marathon Plus AR uses a durable fiberglass mat and incorporates algae-resistant granules.
PROFORMAX Roofing Accessories represents IKO's integrated roofing system to ensure all roofing elements can work together. Accessories include deck protection, synthetic underlayment, roof starters, cap shingles, insulation and IKO Roof-Fast Low-Slope Roofing Components.
Owens Corning has long been an industry leader and has three residential roofing collections to choose from:
Architectural—Owen Corning's architectural shingles are dimensional, using depth and color technology to give the dramatic, highly desired appearance of light and shadow.

Duration shingles feature SureNail Technology with Triple-Layer Protection, TruDefinition Color, StreakGuard Algae Resistance Protection, 130-mph wind resistance, a limited lifetime warranty, an Energy Star rating and more than a dozen colors.
Duration Designer shingles keep the Duration durability features but raise color values with Owen Corning's TruDefinition Color Platform. Specially formulated granules highlight color, dimension and shadow to create nine dramatic roofing palettes.
Oakridge is a laminated shingle with an architectural look and comes in seven colors. Oakridge shingles feature a double-layer nailing zone, StreakGuard Algae Resistance Protection, wind resistance of 110 to 130 mph and a limited lifetime warranty.
TruDefinition Oakridge expands the Oakridge shingle with eight vibrant color choices specially formulated to offer bolder, more dramatic hues.

Slate Look—Owens Corning produces its slate-look Berkshire shingles with tabs that emulate a true natural slate look. These premium shingles come in five tasteful stone shades with StreakGuard Algae Resistance Protection, a limited lifetime warranty and wind resistance of 130 mph.
Three-Tab Style—Supreme is Owens Corning's traditional three-tab shingle known for balancing affordability with protection. Available in 11 colors, Supreme shingles include StreakGuard Algae Resistance Protection, a limited 25-year warranty, wind resistance up to 60 mph and an Energy Star rating.
Owens Corning's Total Protection Roofing System includes ice and water barriers, synthetic underlayment, starter shingles, hip and ridge shingles, intake and exhaust ventilation, and blow-in insulation.
Cedar shake roofs are beautiful and unmistakable. They grace many of the finest homes in the Chicagoland area, and even a small patch of cedar shakes or shingles instantly conveys the charm and character of natural wood. In addition to its beauty, Western red cedar is most highly desired and offers distinct benefits as a roofing material.
Cedar is durable. Properly installed and maintained roofs last decades.
You can choose your desired level of texture—cedar shingles for a smoother, more uniform texture or shakes for greater dimension and contrast.
Stains and sealants let you tailor a roof's tones to complement the structure's exterior. If left natural, fresh cedar has a signature golden honey color that gracefully weathers to silvery gray.
Cedar is resistant to insect damage and discourages pests.
Cedar is weather-resistant and strong thanks to its natural composition, tight grain and tannic acid. It's able to stand up to snow, high winds and even hail.
As wood, the cedar roof itself doubles as an insulating layer, helping to keep warmth inside in cooler months and deflecting solar heat in summer months.
It's a plentiful, sustainable, green material that's also biodegradable at the end of its lifespan.
To remain beautiful and secure, cedar roofs require regular preservative inspection, care and maintenance. Because wood is a natural material, regular cleaning and the application of protective coatings are essential to protect against moisture, mildew, algae, fungus and fire.
For more information on maintaining, repairing, replacing or installing an authentic cedar roof, reach out to the roofing experts at Roberts Restorations. Selecting the right size, shape, type, color and grade of cedar is an art, and installing a cedar roof is a craft. A cedar roof is an investment worth protecting.
Metal roofs have been increasing in popularity as homeowners become more aware of availability and manufacturers continue to improve their products. Quality residential roofing systems feature strong, durable materials like steel, aluminum, zinc and even copper, and aesthetics go well beyond the standard standing seam roof system.
Metal roofs can offer options that more than compensate for an original material's drawbacks. They're lighter than slate and far less fragile than terra cotta, for example, need less maintenance and are longer lasting than wood, and are even more durable than asphalt composite shingles. Yet, you can get the look you want—everything from simple farmhouse sheets to slates, shakes, cedar shingles or Mediterranean tiles as well as mechanical-lock standing seam roofing.
With proper installation, metal roofs offer many advantages:
They'll last a lifetime—40-70 years, with warranties often covering up to 50 years.
They're energy-efficient, reflecting heat and cooling quickly in summer while shedding precipitation and snow easily in winter.
They're weather- and wind-resistant, with quality roofs rated to withstand high winds and even hail.
They're pest- and rodent-resistant.
Most come with a Class A fire retardancy rating.
They're immune to issues like rot, fungus and moss.
They're light yet strong, reducing weight-bearing loads necessary to support a roof.
With the proper sheathing and underlayment, they're quiet.
They're stylish, available in a wide range of colors and textures incorporating preservative coatings like PVDF—polyvinylidene fluoride—to prevent weathering and corrosion.
Metal roofs are also considered cool roofs and an environmentally friendly, recyclable roofing choice. The key to an enduring metal roof, however, lies in the proper installation of truly quality materials—choices that our experienced consultants would be happy to help you explore.
View Or Download Product Brochures