New Gutter Installation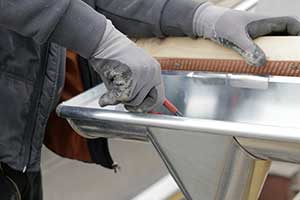 Your property's exterior does more than just boost your curb appeal or increase your resale value. Each individual part, like the roof, siding, or gutter system, plays an important part in protecting your home or business from serious damage due to rain, ice, snow, or sun. Without proper maintenance, timely replacement, your property can suffer. Roberts Restorations is here for your Gutter Installation needs.
When it comes to new gutters, soffit, and fascia, many homeowners choose to wait to replace these exterior elements because it does not seem like an exciting upgrade. However, neglecting these important parts of your home's exterior can leave you with additional damage in the long run.
Gutter Replacement
Your home or business property is outfitted with a gutter system designed to remove water away from the foundation. Without a functioning gutter system, your entire property is at risk for serious water and flooding damage. At Roberts Restorations, we work with home and business property owners who make the sound decisions to replace their gutter systems before major water damage occurs. When you work with us, we offer 5 inch and 6 inch seamless gutters, rolled onsite.
Fortunately, gutter installation can be accomplished quickly, and you will notice a difference almost immediately. Not only will rain (or melting ice) water be swept away more quickly with a new system, the water will also be carried far away from your property's foundation.
Soffit and Fascia Replacement
Without your soffit and fascia, your home not only looks bad, but it also is vulnerable to damage caused by rain, snow, ice, or even animals. When you work with Roberts Restorations, we seamlessly replace your soffit and fascia to look beautiful and work even better.
If you are seeking to replace your gutter system, soffit, or fascia, allow us to make it happen. Our team of professionals will guide you through the process and leave your home with beautiful results. Call us today to schedule your free consultation.