Your business property deserves to be protected. The exterior of your building plays an important role in keeping your business, your employees, your customers, and your products safe. Without a properly installed and updated roof, your property is at risk for flooding and other damage. Roberts Restorations is the best for Commercial Roofing repairs, replacement, and installation in the northern Illinois and Southern Wisconsin area
At Roberts Restorations, we are experienced in working with business owners of all sizes and budgets. We take our craft seriously, offering only the best roofing options to our clients and guiding them through the process. Design to installation to follow up. If you are a business owner in the northern Illinois or southern Wisconsin area, we would love to show you the Roberts Restorations experience.
Commercial Roofing Of All Shapes And Sizes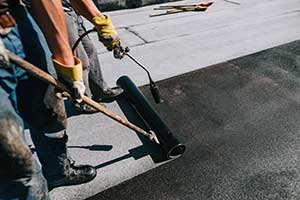 Commercial properties vary in shape and size. At Roberts Restorations, we have worked with business owners who have office buildings and business owners who have large warehouses. In all cases, we work to ensure we provide a variety of commercial roofing options that meet village code. Our roofs are built to last for years to come.
Our team can install flat roofs or more traditional roofs as well. In all cases, we work to secure village permits and to meet the design needs of your business.
Exceptional Communication
The entire team at Roberts Restorations is committed to providing exceptional communication with each of our clients. We are dedicated to keeping you up to date with our progress and responding quickly to any questions you have. Our team will respond quickly and address any concerns that you may about commercial roofing during the process.
GAF
Mule-Hide
CertainTeed
Metal Roofing
TPO Roofing Systems
TPO stands for thermoplastic polyolefin, a single-ply roofing membrane that has become extremely popular for low-slope roofs. Its performance and versatility have led GAF Materials Corporation to develop six EverGuard TPO membrane attachments and adhesives combinations designed to work under even the most challenging conditions:
Mechanically Attached Smooth TPO With Drill-Tec Fasteners — Simply secure the TPO membrane edges to the roof insulation with Drill-Tec fasteners, and weld the seams.
Adhered Smooth TPO With Traditional Bonding Adhesive — Apply adhesive to the membrane underside and the roof insulation substrate. Bond when tacky, and weld the seams.
Adhered Fleece-Back TPO With WB181 Wet Lay-In — Apply adhesive to the roof deck, and roll the puncture-resistant fleece-backed membrane into it. Then, smooth the membrane, and weldthe seams.
Quick Spray Adhesive Smooth TPO — Spray adhesive on the roof deck and the membrane underside. Once the adhesive becomes tacky, bond the membrane to the substrate with a roller or broom.
Adhered Fleece-Back TPO With GAF 2-Part Roofing Adhesive — Apply foam adhesive to the roof deck in a spatter pattern. Once the foam changes color, install the membrane, and weld the seams
GAF RhinoBond System — Drill small RhinoBond metal plates into the roof insulation panels, and spread the membrane. Use the RhinoBond machine and magnets to induction-weld the TPO membrane to the plates, and weld the seams.
TPO membranes come in four different types. EverGuard Smooth and EverGuard Fleece-Back TPO membranes come in 45-mil, 60-mil and 80-mil thicknesses. EverGuard Extreme Smooth and EverGuard Extreme Fleece-Back TPO membranes come in 50-mil, 60-mil, 70-mil and 80-mil thicknesses. GAF also offers TPO membranes in preformulated and custom colors.
At Roberts Restorations, we can help you select the perfect GAF TPO membrane product for your roof and ensure a quick, easy installation with the proper adhesives or fasteners as well as insulation and decking.
EPDM Roofing
EPDM stands for ethylene propylene diene monomer, a synthetic rubber valued for its resistance to harsh environmental conditions like ozone, heat and weathering and its versatility for applications that require a good seal, flexibility and insulating properties. Mule-Hide Products makes four types of EPDM membranes for use in its membrane roofing systems:
Reinforced EPDM — Rolls of polyester-reinforced membrane are available in 8-foot or 10-foot widths and thicknesses of 45, 60 and 75 mils. Sheets are pre-printed with lap lines and fastener spacing guides. Reinforced EPDM can be used with fully adhered, mechanically attached and ballasted systems and comes pre-taped.
Self-Adhering EPDM — Available in 60-mil rolls 10 feet wide and 100 feet long, Mule-Hide's self-adhering EPDM is valued for its weatherability, resistance to hail and low-VOC qualification. The extruded manufacturing process incorporates fire retardants into seamless sheets that are UL-listed and can be used in UL Class A systems.
Standard EPDM — Made for fully adhered and ballasted roofing systems, standard EPDM comes in thicknesses of 45, 60 and 90 mils in dusted or clean sheets pre-taped with 3-inch or 6-inch tape. Mule-Hide Standard EPDM is available in a wide range of sheet sizes.
White-on-Black EPDM — Similar in specs to Mule-Hide Standard EPDM, White-on-Black EPDM is made for fully adhered roofing systems in new construction, reroofing applications and retrofitting. The 60-mil membrane also serves as flexible membrane flashing. Available in various sizes, it comes pre-taped.
Roberts Restorations carries and installs the full line of Mule-Hide EPDM and the appropriate adhesives, sealants, tapes and fasteners as well as the insulation and substrate materials required for a proper installation.
Modified Bitumen
Layers have historically been a hallmark of modified bitumen roofs. As a premium CertainTeed product, the Flintlastic SA Self-Adhered Modified Bitumen Roof System is actually a whole family of roofing products—the Flintlastic SA NailBase, Flintlastic SA PlyBase, Flintlastic SA MidPly, and Flintlastic SA Cap and Cap FR.
The Flintlastic SA Cap layer is available in 12 colors that are not only attractive but also designed to match most shingles or tiles for a seamless aesthetic. It also comes in CoolStar reflective granules that reflect light and heat to help keep a roof cool. The Flintlastic SA Cap FR adds fire and impact resistance. The Flintlastic SA Cap is valued for its durable mineral surface, its superior thickness of 160 mils, and its self-adhesive backing that makes installation simple and neat.
While Flintlastic SA is an SBS self-adhering modified bitumen roofing product, CertainTeed also makes torch-welded APP, torch-welded SBS, cold process SBS and hot asphalt SBS modified bitumen roofing products as well as hot asphalt BUR—built-up roof—products.
CertainTeed even has hybrid modified bitumen roof systems that use self-adhered base sheets like Flintlastic Ultra Glass SA heavy-duty base ply or Black Diamond highly UV-resistant base ply paired with the cap membrane that works best for your application—from the Flintlastic GTA and GTA-FR to STA, STA Plus, FR Cap 30 T, GTS-FR, GMS, FR-P and Premium FR-P.
At Roberts Restorations, we're here to help you sort out the detailed and sometimes confusing spec sheets and ensure you'll have everything you need just the way you need it to get the perfect installation.
Metal Roofing
Metal roofs have been increasing in popularity as homeowners become more aware of availability and manufacturers continue to improve their products. Quality residential roofing systems feature strong, durable materials like steel, aluminum, zinc and even copper, and aesthetics go well beyond the standard standing seam roof system.
Metal roofs can offer options that more than compensate for an original material's drawbacks. They're lighter than slate and far less fragile than terra cotta, for example, need less maintenance and are longer lasting than wood, and are even more durable than asphalt composite shingles. Yet, you can get the look you want—everything from simple farmhouse sheets to slates, shakes, cedar shingles or Mediterranean tiles as well as mechanical-lock standing seam roofing.
With proper installation, metal roofs offer many advantages:
They'll last a lifetime—40-70 years, with warranties often covering up to 50 years.
They're energy-efficient, reflecting heat and cooling quickly in summer while shedding precipitation and snow easily in winter.
They're weather- and wind-resistant, with quality roofs rated to withstand high winds and even hail.
They're pest- and rodent-resistant.
Most come with a Class A fire retardancy rating.
They're immune to issues like rot, fungus and moss.
They're light yet strong, reducing weight-bearing loads necessary to support a roof.
With the proper sheathing and underlayment, they're quiet.
They're stylish, available in a wide range of colors and textures incorporating preservative coatings like PVDF—polyvinylidene fluoride—to prevent weathering and corrosion.
Metal roofs are also considered cool roofs and an environmentally friendly, recyclable roofing choice. The key to an enduring metal roof, however, lies in the proper installation of truly quality materials—choices that our experienced consultants would be happy to help you explore.
View Or Download Product Brochures